Continuum Aquatics Halcyon Salt 50Gal/6.7Kg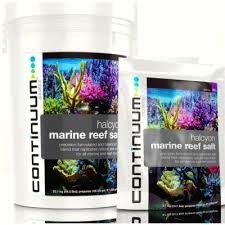 A precisely formulated and manufactured mix of all of the necessary inorganic
components of natural seawater in the proper ratios. It does not utilise any natural
seawater desalinisation residue or wastes, but is entirely manufactured from reagent
grade, pharmaceutical grade, and tested and assayed ingredients. This assures the
finest quality salt available anywhere in the world. Combines the highest level of
marine chemistry with the utmost knowledge of reef aquarium husbandry.