ClariTec 15000UV Pressurised Filter With 13w UVC
POND ONE CLARITEC CANISTER FILTER UV

Whether you are thinking about creating a Pond, and want to effortlessly maintain it or whether you own a pond but it looks more like a green algae swamp instead of a sparkling water feature. Then the Pond One range of Pond Filters is your solution, with reliable and effective filter technology. Pond One has developed ClariTec, a pond filter that requires minimal maintenance effort whilst delivering astonishing filter results
to give you more time to enjoy your pond.

2 + 1 YEARS AUSTRALIAN WARRANTY

The ClariTec pond filter is a pressurized pond filter with a real feel for quality. The construction is solid and the media content is convincing. Designed to withstand pressure of up to 0.5 bar, the Claritec can be hidden in the ground beside the pond or hidden in the garden. The combination of 3 grades of high quality sponge pads and Claritech's unique SUPER BIO CHAMBER which is home to the Ceramisub substrate which holds the biological and nitrification qualities. The Claritec 5000LPH can be upgraded with a UV light and ballast. The filtration process is as follows:
Mechanical Filtration - First your water is passed through a course sponge to remove any floating dirt and debris.
Chemical Filtration - Your water then goes through activated carbon, no more odor or discolorations.
Biological Filtration - In this stage the water passes through very pores ceramic noodles and special sponge filled bio balls which have a huge surface area and are the perfect home for good bacteria which are vital to the health of your fish.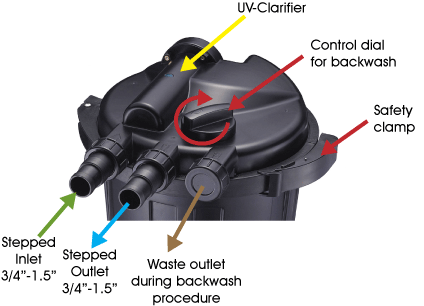 As for the cleaning of your Pond filter Just flick the switch and your pond filter will back wash. Just connect a hose and spray the waste water on your garden. The benefit to this system is that you do not have to remove the media, which creates mess, but more importantly it will minimize the disturbance of the beneficial bacteria.

Claritec Pond Filter Specification:

15000lph With UV
ALL media, Sponges and Ceramic sub bio cartridge INCLUDED
Max Flow Rate : 15000LPH
Height 660mm, Diameter 390mm
Voltage: 230V/50Hz
UVC Cable Lenght: 10m
UVC Power : 13Watt
WARRANTY - 3 YEARS